By Jack Smith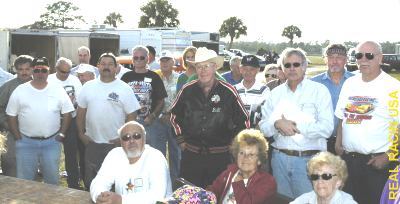 Six months of planning and preparation finally came together at New Smyrna Speedway Saturday afternoon. The occasion was the the First Annual Modified Reunion, organized by Jerry Binner and several other race fans. Over 100 drivers and car owners from across America came together to swap stories and memories from one fan called the 'grand old days of racing".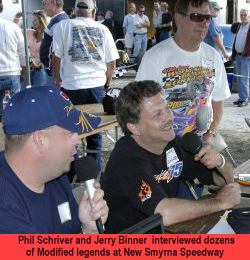 They came from New York, Canada, Pennsylvania, Virginia and of course all the New England states. Names like Dutch Hoag, Bugs Stevens, George Summers, Billy Harmon, Chuck Boos, Ed Ortiz and Ron Bouchard signed autographs from adoring fans and told stories.
Many of the heroes of yesteryear were interviewed for Real Racin' USA by Jerry Binner, Phil Schriver and Carol Wicks. Among them were Bob Judkins, Bob Garbarino, Lew Boyd, Bobby Pendergass, Tom Ormsby, Doug Hevron, and Bill Wimble.
Several of the former racers said that this one of the best reunion events they had been to, an event where at times tears flowed as freely as the laughs as old buddies and rivalries were revisited.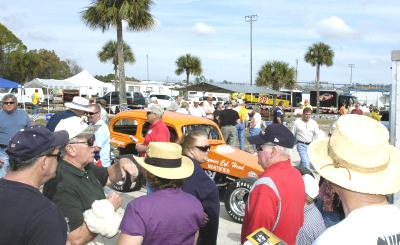 Three to four hundred race fans wandered around the collection of old race cars, and came to the New Smyrna World Series of Asphalt Stock Car Racing a little early just to say hello to the drivers they used to cheer for and in some cases jeer.
[click to continue…]
Podcast: Play in new window | Download
{ 0 comments }