Real Racin USA brought out 1500 fans to celebrate Sunshine Speedway. This very special three hour broadcast captures the most spectacular Florida racing event in years.
Listen to the entire  show! (180 min)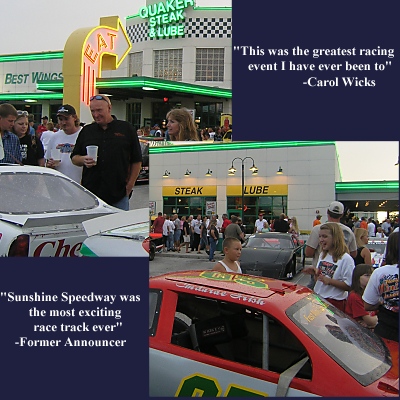 Real Racin' USA Media Report
"A Smash Hit. Spectacular. Unbelievable. Absolutely incredible." Those were some of the words race fans used to try and describe the Tuesday night Sunshine Speedway Reunion Party hosted by Real Racin' USA and KARNAC.com.
The manager of the Quaker Steak & Lube in Pinellas Park, Fl said the event was one of the biggest nights in the restaurant's history.
The event drew fans of the local Sunshine Speedway which closed in November 2004 to make room for a new State highway project which has yet to materialize. Real Racin' USA broadcast for three hours live at the event, interviewing a variety of Sunshine's faithful over the years.
The event was promoted for nearly three months by Real Racin' USA in co-ordination with Terry Scampton of the Racers Helping Racers organization and Jill Marie with the Q Motorsports Family Scholarship Program.
Hosts for the broadcast were Rick Anges, Bill Green, Robert Yoho and Wayne Jefferson. A documentary is being produced of the event by Speed Images and KARNAC Media. Many interviews were videotaped by Bill Hunt's Speed Images and former track announcer Bill Green especially for the documentary that will be available sometime in August.


"I hated to see it go" Wayne Jefferson explained, "I lived a mile from the track, my dad raced at the track in the seventies and this track is why I race today, I had my issues with the owners, but that is only because I am a really competitive type person."
Among those sharing the spotlight were Rick Bristol, former announcer at the track and Laverne Patrick, a eighteen year veteran as the track's flagman. Many of the first lady racers at Sunshine were interviewed including Pam Larson, Tracey Rumsey and Angie Grant. "I think they [the men] tried to intimidate us because we were girls but it didn't work", Angie said, adding "we played the game just as hard as they played and we came out there for the same reason."
Listen to the entire  show! (180 min)

Photo Galleries of the event are at this link: Sunshine Photo Gallery