THE VAULT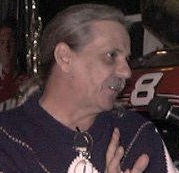 The Vault VI – Jack Smith, R-E-S-P-E-C-T
A commentary from Jack Smith.…a little gem about how promoters earn our respect…
September 15, 2010 Gary talked about his exciting past and current racing endeavors. Gary lit up talking about the "Batmobile", Syracuse and winning the 1968 Florida Governors Cup as a nineteen year old young man
The Vault IV – Dave Pletcher
Mon, 3 Dec 2007 – They call him "Big Daddy", "The Old Man" and quite a few other things. Dave Pletcher has been one of top stars in Florida Racing for many years. Kick back and listen to this Rare candid interview with Dave as He talks about the past and present day racing.
The Vault III – 2001 Charlotte County Speedway
This is an oldie but a goodie!!!
April 11th 2001: It was all about Charlotte County Speedway. One of my favorite interviews with the one and only Randy Fox!  Also that night Richie Anderson, Jeff DuFresne (I have since learned how to pronounce his name) "The Rocketman" Wayne Jefferson, "The Big Fish" Chris Turner and Christie Boyett among others.
Also Robin Meiser and the KARNAC crew hear from the wives and girlfriends of the racers. Well worth a listen!
The Vault II – First Annual Modified Reunion
February 15, 2008
Held at New Smyrna Speedway, hundreds of race fans came out to mingle with stars from yesterday. Bugs Stevens, Dutch Hoag, Ron Bouchard, Chuck Boos, Lew Boyd, Ed Ortiz, George Summers, Bill Wimble and Bill Harmon were just some of the stars on
hand. 
The Vault I – Dick Anderson
Thise week we take you back to 2007-The legendary "King of the Short Tracks" Dick Anderson is featured in an extended in depth interview covering many racing topics.