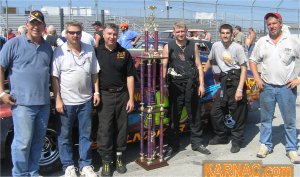 Ocala Speedway in Ocala, Florida ran a 12 hour race, most laps around the 3/8 mile track wins.
Real Racin USA (formerly Short Track America) was there all 12 hours to broadcast it live.
Bill Green gets the Endurance Medal for his efforts.
LISTEN TO TO THE FINAL HOUR PLUS!
EXCLUSIVE COVERAGE OF THE WINNERS CIRCLE DECLARATIONS! LIVE AS IT HAPPENED!
The 12 hour race ran from midnight on Friday night October 20 and concluded at Noon on Saturday.  The car with the most laps won $5000, with $1000 for second, $750 for third, $500 for fourth and $250 for finishing fifth.
Listen to Real Racin USA Radio Follow-up Coverage and interviews with the combatants.