by Kassie Hughes
HEMINGWAY, S. C. — Most of the men and women in racing today have followed in the footsteps of their fathers or grandfathers, but for Marion Cox, he paved the way for many small town mechanics.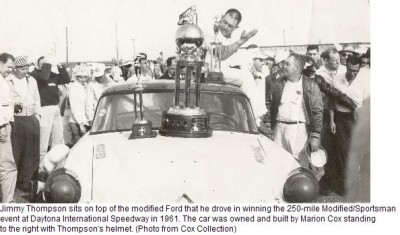 Cox grew up in the small town of Hemingway (SC), and although his family was into farming, his heart craved for something different. In his teen years, he read a book titled "Souping Up The Stock Engine", which was the beginning of his love for racing. Before he opened his engineering garage, Cox went to Nashville Auto-Diesel College in Tennessee and then spent more than two years serving in World War II. Once he settled down, he fell in love with a girl named Nina, who soon became his wife.
His passion was for the heart of an automobile…the engine. He would rather spend time behind the scenes than in the spotlight when it came to racing. The only time he was behind the wheel was when he would drag Nina to Daytona Beach, Fla. for the "Measured Mile" competition on the well-packed sand of the Atlantic Ocean. He would run against the clock at speeds of more than 120-miles-per-hour to quench his need for speed. There was no prize money at the time, but the certificates given to him for his wins against high-dollar competitors was enough to open the eyes of many people who turned to him to build engines for their cars.
In 1954, Cox started building engines for cars whose owners wanted to race on oval tracks in the south. His first race car happened out of coincidence. Originally, he had built an engine for a gentleman in Columbia, but the man couldn't afford to pay him for it, so he offered the entire car to Cox. Marion didn't want the engine to go to waste, so he bought the entire operation. He called the car "Slow Joe" and raced it on an old Myrtle Beach horse track. No one seems to remember the name of his first driver, except that his first name was Clarence. Being at the track became addicting and Cox began to pursue a car owner career.
"If there was one thing Marion could do was set up a race car to handle really good! He loved building, owning and running race cars," his widow, Nina said.
In 1955, Cox entered the only Chevrolet he ever owned into the Southern 500 at nearby Darlington Raceway and he and Nina drove the family car to the track where Roy Bentley took over as the driver for the race. After the race Marion and Nina drove the car back to Hemingway, dents scratches and all.
After finishing 32nd in Darlington, he sold the Chevy, and being a die-hard Ford man, he purchased a brand new '56 model and tinkered with it until it was time for Daytona. Back then, Daytona was a combination beach/paved course, made up of two miles of the north-bound sandy beach and two miles of south-bound Highway A1A. Out of the 100 entries, driver Jimmy Thompson brought the Cox-prepared Ford home in sixth place. After returning home, the proud car builder continued to make a name for himself by running dirt track in the Carolinas while building another car to be driven at Daytona the following year by Thompson's brother, Speedy. The final beach/road course event was held in 1958 and Jimmy Thompson finished 2nd and Speedy was 39th.
When Daytona International Speedway opened in 1959, Cox loaded up his car and pulled it along Highway 17 to the new 2 1/2-mile tri-oval and competed in the 250-mile Modified-Sportsman event with Jimmy Thompson as his driver. A 25th place finish was not good enough for the grass-roots team and the driver and owner vowed to win the event the next year.
Cox continued to field cars for the dirt tracks while spending more and more time learning the ropes at Daytona. Even though he was chalking up wins and track championships on the Carolinas dirt tracks, the determined mechanical genius had one other thing on his mind. Thompson satisfied his thirst for a Daytona win in 1961. Later that year, a young driver from Sardis got behind the wheel of Cox's car at Charlotte and won. Cale Yarborough, a 22-year-old who had run some dirt track events for Cox, but this was the first time on asphalt for the pair. This was also the first win for Yarborough on a track longer than 1/2-mile.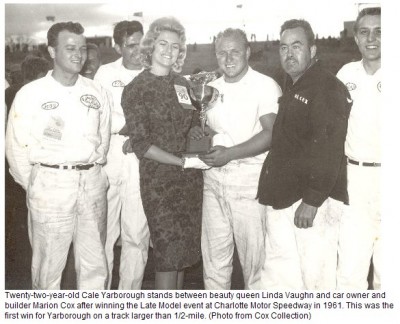 Yarborough was behind the wheel of a Cox-owned car at Daytona in 1962 and finished second. Grand National veteran Marvin Panch took the wheel of a Cox car and won the Permatex 300 in 1965, giving the man nicknamed "Preacher" his second win at the huge track. Immediately after the race, members of the Cox family were headed back to Hemingway so they could attend Sunday School and Worship services Sunday morning. Cox loved his family and he loved racing, but he always made God first in his life.
Since NASCAR ran many of its Grand National events on Sunday, Cox stuck to the "Sportsman" division that raced on Thursday, Friday and Saturday. Marion never raced on Sunday, as he was a firm believer in 'keeping the Sabbath day holy', which landed him the nickname "Preacher". Holding firm to his beliefs, Marion felt that Sunday racing wasn't for him, but had nothing against those who did. When racing on Saturday nights, Preacher would keep a close eye on his watch. It is rumored that he waved one of his drivers, who was leading the race, off the track because it was past midnight and was then Sunday morning.
Until 1966, the only way Marion and Nina could afford to transport the race car was to attach it to the back of their family car and tow it along the highways. Finally, he bought a small flatbed truck and made the alterations to fit his needs of a hauler. He extended the bed of the truck so he could store tools, parts, tires and there had to be ample room to store a huge cooler stocked full of food for the family as well as friends at the race track. While Marion would spend the morning before a race checking over the race car, Nina was busy preparing the food.
Cox won many rewards for his hard work. He was "Mechanic of The Year" for the Modified division in '63 and '64 and was honored with the Bobby Isaac Award for making possible the success and recognition of so many drivers.
He opened the door of opportunities for so many drivers who shared the passion for racing. Drivers such as Dink Widenhouse, Marvin Panch, Cale Yarborough, LeeRoy Yarbrough, Ralph Earnhardt, David Pearson, Benny Parsons, Mutt Powell, Darrell Waltrip, Lonnie Wayne Cox, Billy Scott, Richard Childress, James Hylton, Tiny Lund and Sam Sommers were among the 55 drivers who sat behind the wheels of Marion Cox cars and many of them won races for him. Even though an official count could not be found, it is estimated that his drivers captured more than 500 wins and notched more than 15 track titles.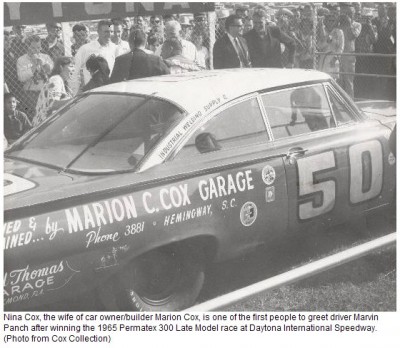 During the 1967 season alone, driver Billy Scott drove the Cox Ford to track titles at Charleston, Savannah, Ga. and Monroe, N, C. The combo finished ninth in the national late model circuit. The following year, Cox hired 18-year-old Haskell Willingham and the team finished second in the Georgia point standings, third in South Carolina and was fourth nationally. In 1970, Willingham and Cox finished fourth in the South Carolina points and fifth nationally.
Cox had built such a reputation as a successful car builder, he was called by representatives of Ford Motor Company in the late 1960's and was asked if he would bring his young dirt-track driver, Willingham, and meet them at the Holman-Moody complex in Charlotte. Holman-Moody was the headquarters for the Ford financed racing teams and was the distributor for all of the Ford racing parts.
In the meeting, the Ford reps offered Cox and Willingham a deal that not many people ever receive and would never, ever refuse. Ford wanted Cox on its team and offered a package that would be similar to that of the famous Wood Brothers, Junior Johnson, Banjo Matthews and Holman-Moody if he would field a team that would compete in the elite Grand National division, later to be named the Sprint Cup Series.
Cox thanked the Ford people for the invitation, but once again, he stuck with his conviction that Sunday was a worship day for him and his family. With Cox turning down the offer, Ford went to Bondy Long in Camden, who graciously accepted and named former Cox driver Paul "Lil Bud" Moore as his driver.
Everyone in the racing community became family, and Preacher touched many lives on and off the track with his wisdom. At the age of 68, he was diagnosed with Alzheimer's and his motor building skills began to drift. Although he retired as an owner, he never retired as a fan. His nephew, Kenny Hughes, would come by and pick him up every Saturday and would take him to the track to watch the new generation of drivers. The last Grand National race Cox attended was at Darlington, where it all began for him. His three sons, Mike, Randy and Dowie took him to the garage area to re-live his racing days.
In 1996, Cox passed away, but his passion for the sport is still alive today. His wife and children pass down the numerous stories about a humble man who simply followed his passion. His family still enjoys the races and keeps in contact with their racing family. His son, Mike, who drove a race car for his father, continues to follow in his Dad's footsteps by owning his own machine shop in Kingstree, and is an official for the UARA series.
Contact Kassie Hughes e-mail to: kassieehughes@gmail.com