This Wednesday night, June 9th East Bay Raceway Park hosts the "Prelude to the Dream" pay per view live from the track's first class restaurant.
The hosts of several Real Racin' USA Internet radio shows will be on hand to award the 2009 Inside Florida Racing Driver of the Year championship ring to a deserving Florida driver.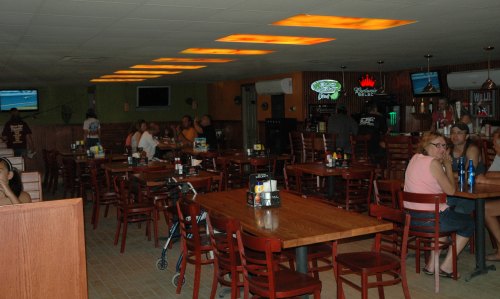 The sixth annual "Prelude to the Dream" highlights modern-day superstars returning to the roots of car racing by competing on a dirt track in a dirt Late Model stock car. Bill Elliott, Kasey Kahne, Bobby Labonte, Joey Logano, Tony Stewart, Kyle Busch and David Reutimann are among the NASCAR stars competing in the 2010 "Prelude to the Dream". The drivers do not compete for points and winnings, but for charity, as the 2010 pay-per-view proceeds will benefit four children's hospitals: Cincinnati Children's, Levine Children's Hospital, Riley Hospital for Children and St. Jude Children's Research Hospital.
Each year Real Racin USA presents the top Florida driver with a spectacular "Driver of the Year" ring, in association with Hilderbrand Jewelers. Last year dirt late model ace Johnny Collins of Jacksonville won the award.
Radio show hosts Rick Anges, Bill Green, Jack Smith, Rob Elting, CeCe Brooks and Bill Ausburn will be on hand to present the driver's award and interview other guests during the two hour broadcast. The broadcast can be heard via the Internet at www.realracinusa.com and clicking on the listen live link.
East Bay Raceway park features a very modern restaurant, complete with a beer and wine bar, making a great fan friendly atmosphere at the Tampa dirt racing facility. Co-owner Mike Dezarn said, "We changed everything in the place except for the floor."
East Bay Raceway Park is located just off Route 41 south of Tampa. For directions and more information about the track visit the web site: www.eastbayracewaypark.com
The show gets underway at 7:00 PM, come early to get a good seat.