RRUSA Media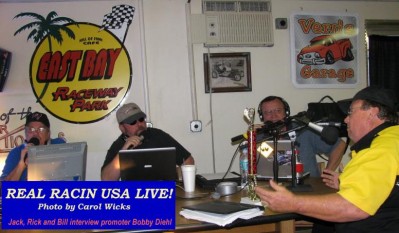 A great lineup of racers from around Florida for this month's show from the dirt track located near Tampa, Florida.  The "Real Racin USA Live!" Internet radio show broadcasts live the third Thursday of each month from the Hall of Fame Cafe at the track.
Currently the state's top sprint car driver is Gene Lasker. Lasker talks about his beginnings at East Bay in the Street Stock, the move to sprints in 1990, and the success that has followed one of Florida's most entertaining drivers.  Sprint car promoter Don Rehm, currently promoting the Top Gun Sprint Car Series (dirt) and the Checkered Flag Sprint Car Series (asphalt),  sits in with Gene and the two compare notes on the current sprint car scene.
Real Racin USA Live! From East Bay Raceway Park
Promoter Bobby Diehl (Charlotte County Motorsports Park) talks about the reasons behind the success he is having as a track owner and other current racing topics.
ASA Late Model Series drivers Jeremy Gerstner and Ross Chastain share the stage with Sean Bass, an asphalt late model driver who has recently started racing on the dirt at East Bay.
Jeff Mathews is dedicating this year to try and win both the late model and modified championships at East Bay. He is presented with the Hilderbrand Jewelers Driver of the Month award for February, presented of course by the Real Racin USA Monday night show, "Inside Florida Racing". He was joined at the microphone with East Bay Raceway park co-owner Todd Hutto.
Susan and Rick Auriemma, promoters of the FAST Mini Cup Series introduce one of their new drivers, Bobby Rogers, a spry 60 year old who now has time ( and energy) to go tackle the short tracks. The duo also announce their addition of Bronson Motor Speedway to their 2009 schedule.
Debi Garcia, owner of Ambassador Racing, talks about the karting and quarter midget programs in Florida and upcoming events.
Also on the agenda tonight was a discussion of the Ric Flair as Honorary Race Director debate and other current events.
The two hour show is hosted by Rick Anges, Jack Smith and Bill Green. The Real Racin' USA Live show is at East Bay the third Thursday of each month. Sponsorship and advertising opportunities are available.
Special thanks to Carol Wicks for her help co-ordinating guests for Real Racin'  USA. For more information or to book a guest on the show, call 941-228-8359 or 941-920-3370 or 941-518-2234.