KARNAC MEDIA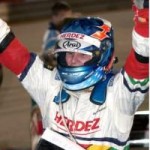 Ryan Hunter-Reay, driver of the Rahal Letterman in the IndyCar Series in 2008, will be a special guest on Inside Florida Racing this Monday night. Rahal Letterman is co-owned by TV personality David Letterman.
Ryan Hunter-Reay is a former Kart racer, and will appear on IFR as part of the weekly Karting segment, hosted by CeCe Brooks, Rob Elting and Jack Smith.
The economy is affecting racing at every level and the IndyCar teams are no exception. The Rahal Letterman team is currently out of the 2009 season unless it can secure a sponsorship deal.
"Everybody knows about what's going on in this economy, and things look pretty grim," team co-owner Bobby Rahal said Thursday. "But we do have some sponsorship on board and what we're still looking for is a primary sponsor.
Ryan Hunter-Reay finished 6th in the 2008 Indianapolis 500 and won at Watkins Glen.
Inside Florida Racing airs on RealRacinUSA.com every Monday night 7-9 PM and all shows are on Itunes and archived for on-demand listening.