By Jack Smith
Joe Dirt and Billy the Kid just completed their twentieth edition of Dirt World, the motorsports show heard on Wednesday nights on Real Racin' USA. Without a doubt it was their best effort to date in what has been an increasingly entertaining one hour of interviews with the icons of dirt racing.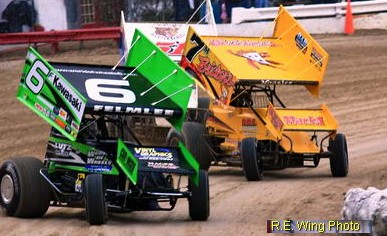 This week the duo, better known for their roles as announcer and race director, left the studio and went to Ocala Speedway to broadcast the show live from the track.  Ocala Speedway, which reverted back to dirt racing in 2008, is the scene of the first 410 sprint action in Florida in 2009, and the UMP DirtCar Modifieds are also in town this weekend.
Their first time out of the studio Joe and Billy rock-n-rolled through an hour and a half of nonstop action.  An all star lineup of guests greeted listeners, including Kenny Wallace, Steve Arpin, Tim Shaffer, Craig "the crowd pleaser" Dolansky, UMP Dirt Car President Sam Driggers, and Florida modified ace Jeff Mathews.
DOWNLOAD THE DIRT WORLD SHOW LIVE FROM OCALA SPEEDWAY
The legendary "Real Racin' USA Bump" was certainly in effect as both Tim Shaffer and Kenny Wallace reached the winners circle at Ocala on opening night.
In addition youngster 17 year old David Gravil, set to start his first 410 sprint race on Thursday.
Plus Ocala co-owner Angie Clifton, announcer BJ Cavin and Mike Peter's mentor at Ocala Harvey Fink sat in the guest chair to share their view of the Ocala adventure into big time winter dirt racing. This was a major event for a track that owner Mike Peters and Clifton took a big league gamble on in 2007 with the decision to return the track to dirt. The All Star Circuit of Champions Sprints and UMP Dirt Car Modified began arriving with some of the biggest names in the industry early in the week.
Joe Linebarier thinks the show is definitely on the right track, "Look at guest list week in and week out", he said. "That tells the story right there."
Scott Bloomquist, Donny Schatz, Darren "The Thriller" Miller, Danny Lasoski,World of Outlaws Late Model 2008 champion Darrell Lanigan, Ken Schrader and Steve Kinser have all been interviewed on Dirt World in recent weeks.
"The show as awesome, we got calls from New York about the show", said Billy the Kid. "Guy Webb called me and said it was awesome. We just went out and grabbed the guys out of the pits", he joked.
Joe Dirt is better known as Joe Linebarier, the veteran voice of Volusia Speedway Park, and Billy "the Kid" Ausburn has been the race director at Volusia, Ocala Speedway, the United Dirt Late Model Tour and this year has joined the newly formed management team at Hendry County Motorsports Park. Needless to say, these are two passionate fans of dirt racing, but also industry insiders who know how to get a story fans want to hear.
Dirt World can be heard on www.realracinusa.com every Wednesday at 7:30 PM and all shows are archived on the site at  www.dirtworldracing.com and also available on iTunes (keyword:Dirt World)
[In a programming note, Real Racin' USA Live!, with hosts Bill Green, Rick Anges and Jack Smith, will be broadcasting from the Hall of Fame Cafe at East Bay Raceway Park on Thursday, February 5th. The Lucas Oil Dirt Late Models are at the track all week long.]