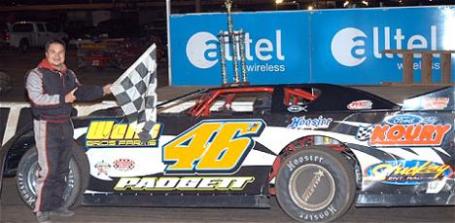 As 2008 came to a close and a lot of racers were winding down for the year, the driver of the number 46 Billy Wells owned dirt late model was amping it up. Darrell Padgett won at Golden Isles Speedway, his first ever win in the National Late Model Series, and then had back to back wins at Volusia Speedway Park including the Holiday Convention Classic to end the year.
Darrell Padgett missed winning the non-members competition in the United Dirt Late Model Challenge Series by a mere 20 points, losing out to Patrick Williams in the closing laps at East Bay Raceway Park in November. Coming off the strong finish to end last year, in 2009 Padgett has set his sights on the UDLMCS championship.
"We really jelled there at the end, we hit on some things setup wise and was able to close out strong." Padgett said recently. This week he is at the Super Bowl of Racing, held each winter at Golden Isles Speedway near Brunswick, Ga. "Brunswick is one our favorite places to run, Brunswick and Volusia top our list, they're both high speed and I guess kind of fit my driving style, and they promote a lot of passing usually and makes for good racing."
The Padgett-Wells connection started in April 2008 at Volusia Speedway Park and the partnership resulted in a win the first time out. Wells had bought a late model from Padgett's mentor Murrell Mixson who recommended Padgett to Wells. It has been a great match so far.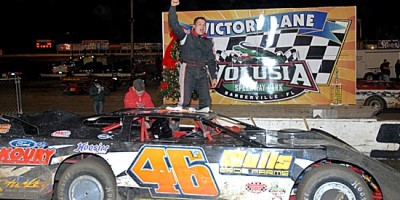 The 30 year old Jacksonville native started racing go-karts at 9 and kept at it until he started racing open wheel modifieds on the asphalt at Columbia Motorsports Park at age 18. "In 1998 we made about a dozen starts, got a victory on asphalt there, blew two motors and found ourselves without financial backing", he explained. Padgett was a spectator from then until 2005 when Murrell Mixson gave him a chance to race.
Though he was out of racing as a driver, Padgett hung around and knew people like Murrell Mixson. Mixson, who fielded cars in the '90s for the likes of Earl Pearson, Jr., saw something in Darrell Padgett. When he wanted to field a limited sportsman at Waycross Motor Speedway he told Padgett he couldn't think of anybody else he would want to drive it.
For fans unfamiliar with Waycross, it is an oil based track very similar to an asphalt track. "I adjusted well there, probably because of my experience at Columbia Motorsports Park, we did pretty good there and started moving to other tracks, started going to Volusia, Savannah and East Alabama."
Padgett pays a lot of tribute to his former car owner, and realizes how important the opportunity to drive for Mixson was. "He helped me cut my teeth and showed me what racing in a series is about, and what level of concentration you need and how competitive it is."
And Padgett got it. Having been a competitive racer since he was nine years old, sitting on the sidelines wasn't easy for Padgett, "It was frustrating", he said. "There comes a time when everybody has that dream and all they need is an opportunity, and it just didn't present itself." Padgett busied himself by going to college and was trying to start a career with CSX Transportation, where he has now worked for 13 years.
As do many racers of his generation Padgett credits the go-karting experience as a strong influence, learning not only how to race but also how to handle himself and represent his team in a good light. "It is the most competitive sport, it brings out the concentration you need to be successful, it teaches you the ups and downs.", Padgett said. He also credits strong go-kart racing programs in the Jacksonville area as one of the big reasons so many great dirt late models come out of that region.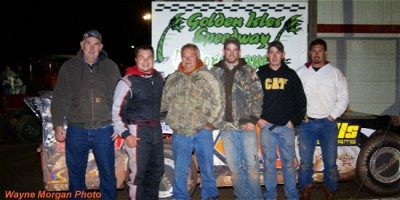 In 2008 Padgett was not racing for points anywhere, but this year he has set his sights on the United Dirt Late Model Challenge Series. "We are real excited and real anxious to get started, I hope we are as prepared as we think we are", he said, adding "we have worked really hard, but your competition works just as hard. We have some pretty good confidence, but we realize what we are up against with Ivident Lloyd and Tyler Ivey and Johnny Collins, Mark Whitener and those guys."
"Ken Kinney has a race in March right there at Golden Isles paying $10,000 to win, we're real excited about that, that's one of our favorite tracks", Padgett said as he began to talk about 2009. "There's the points championship deal there, Ken is going to pay out $15,000 for the champion, I know that will be a tough feat and there will be a lot of people going for it, we'd like to get in there and mix it up with them."
For Padgett the United Dirt Late Model Challenge Series makes a lot of sense, "The schedule is attractive for us, the purses are attractive, the one day shows are really attractive to us, and we are kind of a fan of his motor rules", he stated. In 2008 Padgett ran a limited UDLMCS schedule and had three top ten finishes.
Padgett makes it clear he owes his racing career to his dad and mom and then Merrill Nixon and Billy Wells. Padgett over flows with admiration for Billy Wells, a man he always refers to as Mr Wells, in the old Florida tradition of respect. "He provides the best equipment that I could ask for."
But as Padgett explains there is more to it that, "Whether it's his car or the competition's car, he will take his shirt off his back for anybody in racing."
Wells Brothers Farms is the main sponsor of the team owned by Billy Wells. Stuckey Enterprises out of Shreveport La., helps with the shocks and setups. The team runs a Masters Built Chassis and Ford motors. The team's crew chief is Daniel Noe and pit crew Jimmy Walden and Larry Rhoden.
Darrell likes to hunt and fish and stay active when he not racing, and is a member of the First Baptist Church is downtown Jacksonville and attends regularly. He is married and he and his wife Ashley have a two year old son, Kellen and are expecting their second son in June. Bo Padgett, Darrell's father and his mother Valerie have been a integral part of the racing life of Darrell Padgett, "From the word go he has been right there with me, he has worked overtime, and worked his off days to get us to races. He has been above and beyond."
It would not be surprising to see Padgett making a serious run for the 2008 UDLMCS Championship. The incentives are there, the driver is there, and the team has certainly shown they can win races.
When the first United Dirt Late Model Challenge Series green flag drops at Ocala Speedway on Friday February 27th, look for Darrell Padgett and that number 46 to be right in the mix going for the win.
Dirt World – Nov 2008 Darrell Padgett Interview