RRUSA MEDIA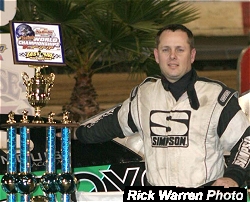 The ever popular dirt racing offering from Real Racin USA, Dirt World with Joe Dirt and Billy the Kid, kicked off the new year in 2009 with a couple of late model stars. 
The driver of the Rusty Wallace Toyota sponsored dirt late model, Shannon Buckingham, was the featured guest on Wednesday night's show. Shannon is still buzzing over the big win in the NeSmith Chevy Dirt Late Model Series race at East Bay Raceway Park in December.
"This was my first race with a crate motor in Scott's [Bloomquist] car, and I was really happy to transition that fast with a crate motor in his car because it takes a little bit different set up on that car." Buckingham said. 
Since hooking up with Bloomquist Shannon was originally planning to race only the super late model races, but the win at East bay changed plans a bit for 2009. "There's some really big races at the first of the year, I know Green Valley, Alabama is supposed to have a $25,000 to win with a crate engine", he said. "East Alabama has a $10,00 to win, and then back at East Bay there's several crate races at the end of February, so I'm going to run three or four crate shows at the beginning of the year, but we're going to run mostly the super stuff this year".
Buckingham talked about the relationship with Scott Bloomquist, also the great relationship he has developed with Rusty Wallace Toyota as a sponsor, and how these tow dynamics are lining up for success on the track. 
On Bloomquist, Buckingham said, "He doesn't want any prima donna, he wants guys who are into racing for all the right reasons. He wants guys who takes care of his cars, and who wants to take it as seriously as he does"
Another clue that the Shannon Buckingham train is taking off is this month's edition of Dirt Late Model Magazine. Shannon Buckingham in featured in a discussion of "his Toyota connection, racing's lessons and his future in the sport."
Shannon talked with Joe & Billy about about the future of a possible Toyota dirt late model racing program. "We talk to some of the Toyota execs, we know they they have the engines, we've just got to get them excited about the dirt late models." Buckingham expressed that it may just happen in the future.
If Shannon Buckingham is not on your racing radar, he is sure to be by the time 2009 is done.
He said it simply. "We are going to bring some excitement one way or the other".
Listen to the 20 minute in depth interview with Shannon: Click to listen.
Tim McCreadie also stopped by for a chat with the Joe and Billy. The 2006 Chili Bowl winner as well as the 2006 World of Outlaws Late Model Series Champion had a great year in 2008. Tim won the 5th Annual Late Model Knoxville Nationals, bringing home a $40,000 paycheck in what was one of the most exciting dirt late model races of the year. McCreadie, from Waterloo, NY also won took the $20,000 first prize in the Jackson 100, winning in his first visit to Brownstown Speedway in Indiana.
Dirt World airs every Wednesday night at 7:30 PM live with hosts Joe Linebarier and Billy Ausburn and all shows are archived on Real Racin USA at www.dirtworldracing.com