RRUSA Media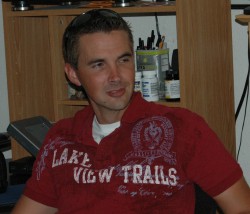 James Knight battled through chemotherapy and 35 competitors to win a championship in the Pure Stocks at DeSoto Speedway in 1999. After being schooled by Gus Coorssen, one of Florida's best, he beat all the odds becoming DeSoto's fan favorite and taking home the first place trophy. James told his story on Inside Florida Racing Tuesday night with hosts Jack Smith and Racin' Jason Beckner.
Also in the studio Tuesday night were Phil and Michelle Ellis. Phil is a first year driver in the Pro 4 Cylinder division at Punta Gorda Speedway. Phil is having the time of his life, running in the top three in points with his wife helping all along the way.
If you have a driver or other racing personality you would like to hear on Inside Florida Racing, e-mail us at KARNAC@comcast.net .  Feel free to comment on any of our shows by using the add comments link or on our racing forums.