RRUSA Media
Wayne Anderson, Florida super late model racer and promoter of the Florida All Stars Tour, joined CeCe Brooks and Jack Smith Tuesday night on Inside Florida Racing. The series is ready for its final race of the year on October 9th at DeSoto Speedway, a year that all in all showed that fans and drivers will certainly support a good late model toruing series. Averaging around 25 cars per race with a high of 38 cars at New Smyrna Speedway and a low of 18 cars at Columbia Motorsports Park, the series has to be called a success in its first year.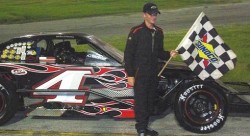 Also on Inside Florida Racing was a youngster from DeSoto Speedway who has been turning heads in the open wheel modifieds. Dalton Baldwin , son of accomplished open wheel racer Bobby Baldwin, drives the #4 modified and is headed for Rookie of the Year and will finish in the top five and maybe the top three at DeSoto. This well spoken 16 year old is going to put his mark on asphalt modified racing in the state before too long.
Real Racin USA announced today the Hilderbrand Jewelers Driver of the Year ring for Florida's top racer will be awarded again this year. Also Tuesday night's show featured commentary on the Florida asphalt track onwers meeting and other news from around the state.
Use this link to download tonight's show which includes the full interview with one of Florida's racing legends, Jack Duffy.
Podcast: Play in new window | Download