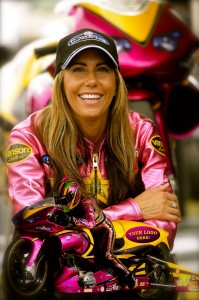 SCOTTSDALE, Ariz. – Two-time Bonneville land speed record holder and current Pro Stock Motorcycle racer Valerie Thompson has announced a partnership agreement with Team Marines Racing (TMR).
The deal struck with Team Marines will help generate additional marketing value for Thompson's sponsors by providing associations with active duty, retired and future Marines and their families. The agreement will also help to generate revenues for the Wounded Warrior Project and the Injured Marine Semper Fi Fund, two programs that exist to provide support to those who serve and preserve our freedoms.
"I could not be more excited about joining Team Marines Racing," said Thompson, who competed in four NHRA Full Throttle Drag Racing Series events in 2008. "Our team has been looking for ways to give back to the Military and their families, which makes this a perfect fit. Their dedication and service to our country speaks for itself. We are proud to support the Wounded Warrior Project and the Injured Marine Semper Fi Fund."
Team Marines Racing Chief Strategy Officer, Chip Dykes added, "We are very excited to add Valerie Thompson to the Team Marines Racing family and look forward to developing a strong partnering relationship with her team. Adding an experienced rider like Valerie brings great value and excitement to the Team Marines Racing program. We look forward to developing partnering relationships with key sponsors".
Sidelined for the first four races of the 2009 season, while she searches for the proper funding, Thompson has been making weekly appearances and displays with her Buell V?twin Pro Stock Motorcycle while meeting with prospective marketing partners. Thompson's new association with Team Marines Racing brings significant added value to VTR's racing program and will allow potential sponsors to enjoy the benefits of a strong relationship with American military servicemen and women. Thompson is currently seeking marketing partners for the remainder of the 2009 season and beyond.
Find out more about Valerie at http://www.valeriethompsonracing.com
Team Marines Racing http://TeamMarinesRacing.us
Wounded Warrior Project https://www.woundedwarriorproject.org
Semper Fi Fund http://www.semperfifund.org
"I want to emphasize my gratitude to all the sponsors for their faith and support in VTR. It gives me great pleasure to represent my sponsors and is even more rewarding to report my successes.  Without their support, the racing program would not be where it is today."
"Special Thanks to Keith Ball @ Bikernet.com – It would of not been possible to make and break land speed records, Jim Schneider at Competition Research & Development, Rob Schopf at Hal's Harley?Davidson New Berlin, WI for their support."