World Figure 8® Racing Tour Media Release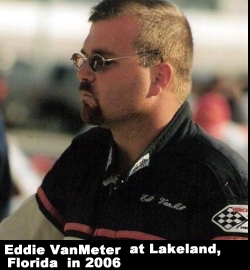 The road to the sunshine state for Figure 8 race competition is beginning to fill with top challengers for the upcoming series at the Auburndale Speedway February 12th to the 15th, 2009.  
The crossover gladiators from North and South look to mix it up in the short track world's most exciting division. Heading out of the Hoosier state will be the driving duo of Eddie VanMeter and Casey White. The Billy Skiles owned team has their full focus on the Florida Figure 8 Championship.
Eddie VanMeter is no stranger to success in the Florida area. The second generation racer put himself on the Figure 8 map during the 1996 National tour swing through the state. At the Sunshine Speedway that February 17th, EVM stormed to a stellar victory in the One Hour contest over some tough competition.
Another of his resume topping victories was his 100-lap Super Late Model win at the USA International Speedway on January 26, 2006. Eddie held off the advances of short track all-star Eddie Hoffman at the finish line.
 
VanMeter is coming off his best calendar year on the Figure 8 course. The signature triumph came with his second straight checkered flag in the Jake's 150 at the Indianapolis Speedrome. His other "home track" Figure 8 wins came in the North/South 100, Pepsi 100, and the Phyllis Tunny Memorial race.
He came away with a career best third place in the final season standings in the Jiffy Lube Late Model series at the Speedrome. Additionally he was also victorious in the Outlaw Figure 8 event at southern Indiana's Jeffersonville Sportsdrome.
 
"The Big Cat" Casey White jumped on board driving the second car in the Skiles Country Auto Parts stable in 2008. After many wins over the previous years in the family ride wrenched by his father Reggie, he was tapped to move into the top-level Figure 8 machine.
During that campaign he posted four feature wins while challenging for many more. The new combination gave Casey a chance to race outside the friendly confines of the place where he grew up, the Indianapolis Speedrome. His record book has third place finishes for him at the Jeffersonville Outlaw contest and California's West Coast Figure 8 Finals at the Irwindale Speedway. This has him aching for a victory in Florida.
 
The Florida Figure 8 Championship is sanctioned by the World Figure 8® Racing Tour. It has dates set for February 12th to the 15th, 2009 at the Auburndale Speedway.
These events evolved from the legendary World Figure 8® Championship held each year at the EDCO Welding Indianapolis Speedrome®. The $20,000 to win, 33rd Annual World Figure 8® Championship is September 10th to 12th, 2009.