By Mike Portman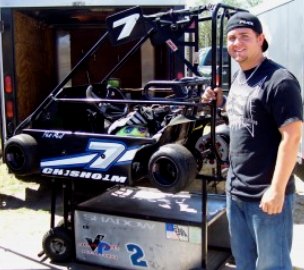 In racing, as in all endeavors, the road to success can often take unexpected twists and turns along the way. This is especially true for the journey of 22 year-old University of South Florida senior Dustin Chisholm of Seminole, FL.
At the age of 8, Dustin's father took him to watch a go-kart race at the former Sunshine Speedway in St. Petersburg. Dustin was immediately hooked with the speed and excitement of karting. Within a week, his father purchased a go-kart for Dustin to race.
Over the next ten years, Dustin and his parents spent every weekend at the races. Dustin quickly developed into one of Florida's winningest go-kart racers, collecting 12 Track Championships, 36 State Series wins, 5 National wins and 1 Grand National Championship.
Dustin Chisholm Audio interview Jan 2009
At those events, Dustin routinely raced against, and beat, some of racing's future stars including Nascar drivers Brian Vickers, Jon Wood, Jerry Nadeau, Aric Arimola and Nascar crew chief Rodney Childers.
At the age of 18, Dustin's parents struck a deal with him. If he wanted them to continue supporting his racing, he had to attend college. Dustin agreed, enrolling at the University of South Florida in the Business Administration program in 2006. Dustin excelled academically, capturing the $1,000 "James W. 'Jim' Hernan Memorial" scholarship in 2006, 2007 and 2009, from Q Auto & Injury Attorneys of Bradenton, FL.
In 2006, Dustin and his father made the decision to move up into the car racing ranks. In 2007, Dustin finished second in the highly-competitive Open Wheel Modified division at Desoto Super Speedway, near Bradenton. In 2008, Dustin moved up to the Late Model division, capturing the Desoto Super Speedway Points Championship.
But then, Dustin's journey took an unexpected detour. With the poor economy, and its impact on potential sponsors, Dustin was forced to sell his race car. "My parents were putting everything they could into my racing, but with the bad economy, the costs were simply too high" said Dustin.
Without his race car, Dustin decided to return to his karting roots. "I love to race, and I really missed it. It doesn't make any difference to me if it's a car or a kart. I'll drive anything, on dirt or pavement. I just love to race" said Dustin.
In 2009, Dustin made the decision to enter the highly-competitive Florida Triple Crown Series for champ karts. It consists of four races, scheduled at four different paved stock car tracks throughout the state. Champ karts are go-karts equipped with roll cages, 5- point safety harnesses, belts and arm restraints. For additional safety, drivers must wear fire suits, helmets, gloves and neck braces.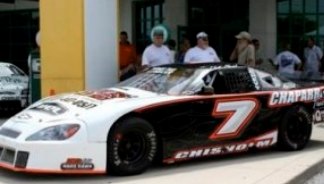 Champ Karts often race only inches apart, with speeds approaching 70-75 MPH in the draft. Drivers range in age from 15 to 72 years old. The series is sanctioned by the South East Champ Kart Series. Each race is 25 laps in length, and carries a cash purse of over $1,000. In addition, the top finishers also receive trophies and sponsor contingency awards.
Heading into the Florida Triple Crown Series finale on December 4 and 5 at Orlando Speedworld in Orlando, FL, Dustin holds a commanding points lead. Each night's feature winner will collect $500 in cash. Asked what he would do with the winnings, Dustin replied, "I would use the money to start paying back my student loans".
Asked if there are any people he'd credit for his racing, Dustin replied, "I really want to thank my sponsors Chaparral Trucking, Tampa Bay Truck Wash, Victor Peters of TS Racing, and my mom and dad. They are the reason that I am still racing, and I can't thank them enough."
When: December 4 and 5, Races start at 7:00pm
Admission Price: Friday $8.00, Saturday $10.00
Where: Orlando Speedworld
19164 E Colonial Dr, Orlando, FL
What: Charity Truckers 200 (Pro Truck Division), Antique Midgets/Sprints, Antique Stocks, Mini Cups, South East Champ Kart Series, Super Stock, Strickly Stock, Legends Cars
For More Information: www.SECKSRacing.com