Special Events & 1200+ Exhibiting Companies Make PRI Trade Show This December "The Three Biggest Business Days in Racing"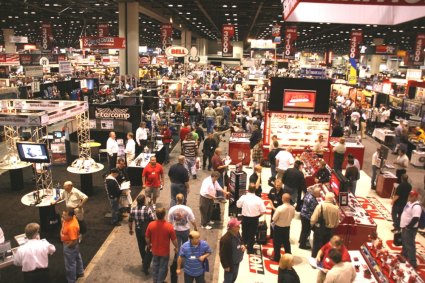 LAGUNA BEACH, CA – Racing industry professionals looking to accelerate business and get a fast start for 2010 will find the task begins this December, 2009, in Orlando, when the world's largest hardcore racing trade show opens the doors to its exhibit aisles.
Special events and exhibits by over 1,200 motorsports companies in the Performance Racing Industry Trade Show will make Thursday, Friday and Saturday, December 10-12, 2009, the three biggest business days in racing.
More than 40,000 racing industry buyers from all 50 states, plus 60 countries, attended the PRI Trade Show last year in the North/South Building of the Orange County Convention Center, where the event takes up 1,000,000 square feet. Racing retailers, race engine builders, racing fabricators, WDs, professional race teams and more come to preview the latest advances in racing products, motorsports engineering and precision machining equipment.
The PRI Trade Show is timed for racing entrepreneurs to have the opportunity to conduct business face to face with racing industry suppliers, receive hands-on sales demonstrations of new racing products, make purchase decisions and have the components in stock for the start of the next racing season.
"The racing products and machinery that will provide new revenue streams and new sources of profit for racing entrepreneurs in 2010 will all be on display in Orlando," said John Kilroy, editor of Performance Racing Industry magazine. "It's a remarkable and unique opportunity for racing professionals to see it all in one hall—thousands of new racing products! There's nothing like it."
But, PRI is more than just a trade show, noted Kilroy. "The PRI Trade Show offers a full package for racing industry professionals, including a wide array of special events providing valuable business learning opportunities as well as the chance to network with your industry friends."
Among the events planned thus far at the PRI Trade Show are:
AETC Conference – With the theme this year, "Advanced Ford Modular Performance," the Advanced Engineering Technology Conference celebrates its 20th year as the premier seminar series for race engine builders. It will be held Monday through Wednesday, and you can register at www.aetconline.com
Motor Sport Business Forum – Famed IM2 Events, which has held important business conferences on the racing industry today in Europe, Asia, and the Middle East, brings its event to the US for the first time at the PRI Trade Show. It will be held Monday and Tuesday, and you can register at www.msbforum.com/northamerica.
Industry Roundtable – Jeff Hammond, TV race commentator and former crew chief great, moderates the best discussion of the issues in the racing industry today with a select panel of respected figures in racing.
Grand Opening Breakfast – Over 3,000 members of the racing industry will gather for breakfast and a live episode of the popular Wind Tunnel TV show, featuring Dave Despain. He'll be candid and uncensored before a seasoned racing industry audience which will throw tough questions at him, in addition to special guests onstage and race celebrity phone-in calls!
PRI Happy Hour Presented by Budweiser – After a day working the world's largest racing trade show, thousands of racing entrepreneurs will head to the front lobby of the Convention Center for one of the best racing industry gatherings of the year.
PRI All-Star Karting Classic – A star-studded race grid will greet PRI attendees who take in the exciting action of the PRI All-Stars Karting Classic.
Bobby Rahal's Road Racing Drivers Symposium – As President of the Road Race Drivers Club, Bobby Rahal and special guest speakers will discuss the inside secrets to becoming a winning driver in the world of road racing circuits.
To preregister and receive your PRI Trade Show credentials in the mail, go to www.performanceracing.com/tradeshow. Or call 949-499-5413.