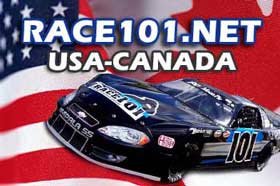 Fifteen of North America's brightest car racing prospects converge on Charlotte, North Carolina, this Friday to be introduced as RACE 101's inaugural class.  An acronym for Research, Analyze, Consult, Educate, 1 on 1 RACE 101 is a one-year advanced motorsports education program designed for aspiring race car drivers looking to advance their careers.
The inaugural class consists of 15 scholarship winners from across North America.  Naples, Florida, racer Michael Cenzi was chosen from hundreds of applications based on his desire to learn along with an impressive racing resume.  The 16-year-old started racing when he was six, and he has amassed an impressive list of victories from go-karts up to full-sized late model stock cars.  
Cenzi plans to focus on the RACE 101 program in 2010 while campaigning his family s late model stock car at Charlotte County Motorsports Park, Auburndale Speedway, Citrus County Speedway, Orlando Speedworld, New Smyrna Speedway and Columbia Motorsports Park.  He has aspirations of eventually racing at the NASCAR level.  Need for motorsports based education RACE 101 was founded by acclaimed crew chief Tony Blanchard.
Best known for his work with NASCAR Sprint Cup sensation Joey Logano during his formative stock car racing years Blanchard recognized a need in the racing industry.  "Achieving a career in motorsports requires much more than racing talent", says Blanchard.
Young racers need to understand the mechanical side of their cars, and they need a solid public relations foundation.  We re able to provide an education in their area of need.  I m excited to work with these young racers, and we have some great instructors and mentors involved with the program.
The press conference introducing the inaugural RACE 101 class can be viewed at www.Race101.net.  For more information, contact Denine Snyder at 239-707-5029 or denine92@embarqmail.com