By Jane Smith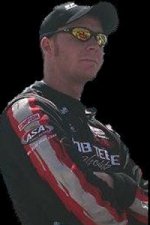 Dreams are not always easy to fulfill. Sometimes we try all our lives to fulfill one dream. When you are young, nothing seems impossible.
Travis Kittleson was just like any ordinary high school student except for his dream. Travis dreamed of sitting behind the wheel of a racecar.
In 1999 when Travis graduated from Merritt Island High School in Merritt Island, Florida he got a very special graduation present – a trip to Buddy Baker's Racing School. That was the beginning of his dream.
In the fall of 1999, in the pits at New Smyrna Speedway, Travis drove his dream. In his blue No. 88 Super Late, Travis took that first step towards his dream. Was he nervous, yes. Did he show it, no.
Podcast: Play in new window | Download
Surrounded by family and friends, Travis drove it like he stole it. In 2008, Travis will be behind the wheel of the Number 54 Hooter's ProCup car owned by JCR3 and co-sponsored by Bob Steele Chevrolet of Cocoa and C&C Boilers, the business run by the owners of JCR3 team.

"We are really excited about 2008. Hopefully we will be a contender in the ProCup series and I am really looking forward to racing with a lot of good guys. We also have a couple of ARCA cars and hopefully we will do a few ARCA races if possible but the goal is to concentrate on Hooters and really be a contender in 2008."
Either way, Kittleson is thrilled to be back in a full-time ride after bouncing around the NASCAR Craftsman Truck and then Busch Series over the past two seasons. He ran a total of nine races, eight in trucks and one in the Busch, now Nationwide Series.
The Busch race in 2007 was in the high-profile No. 20 Joe Gibbs Racing Chevy, which Kittleson piloted to a 17th-place finish at Gateway.
"I just needed to get back to running full-time," Kittleson said. "I needed to put myself back on the map. Last year at best I feel I ran mediocre. I was rusty. You're just not sharp running that many races.
Recently on Real Racin' USA (realracinusa.com) Travis admitted that he does miss his Super Late Model days and Orlando SpeedWorld and New Smyrna Speedway where he set the foundation of his career.
When fans think of Travis Kittleson, they automatically think of Bob Steele Chevrolet his long time sponsor and friends.
Rob Kittleson, Travis's father, has worked for Bob Steele for over twenty years and when Travis was a young teenager, he also worked for Bob Steele preparing the new cars for their new owners. "I would take off all the stickers on the cars, wash them, vaccuum them and got paid $5.00 a car. But when I received my paycheck, the deal was that I put half of it in a saving account in a bank across the street. Something that the Steeles made sure I did."
Travis moved his dream to North Carolina a few years back but always came home for a visit and if he had a Super Late, would be in that field in his familiar No. 88 black and silver Chevy. But at times you would also see Travis in a No. 30 which was to honor his former Crew Chief and friend, Pete Orr.
Pete is the one who guided Travis in his first year in the ASA Series. It was not easy but Pete made it easier. Pete and Travis had parted ways when Pete suddenly died but Travis never forgot his friend or the foundation that Pete laid for Travis. Pete's number was 30 and Travis proudly ran it whenever possible to honor his friend.
Travis has not given up on his dream of NASCAR and will still be seen in the pits at NASCAR races, helping, listening, whenever possible. But for 2008, this young man has a dream of being a real contender in the Hooter's ProCup Series Southern division and knowing Travis Kittleson, that is exactlly what he will do.